Rakhi Greetings


More Greeting Cards
Rakshan Bandhan Scraps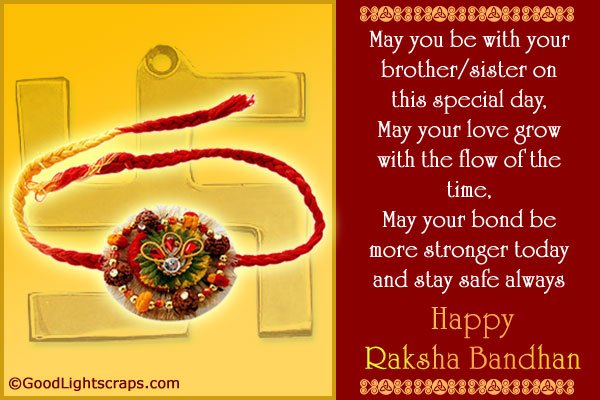 More Greeting Cards
Rakshan Bandhan Scraps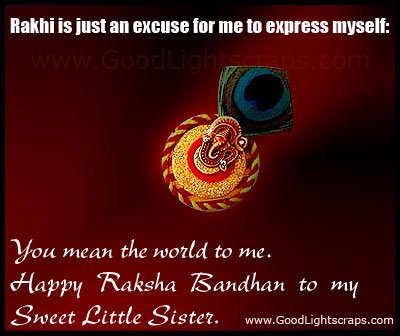 More Greeting Cards
Rakshan Bandhan Scraps


More Greeting Cards
Rakshan Bandhan Greetings


More Greeting Cards
Rakshan Bandhan Scraps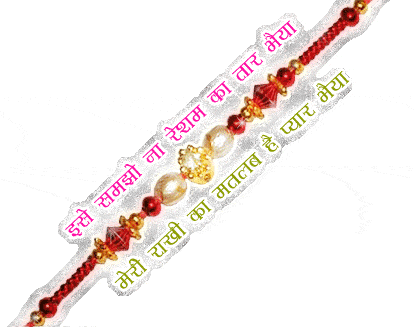 More Greeting Cards
Rakshan Bandhan Scraps


More Greeting Cards
Rakshan Bandhan Scraps


More Greeting Cards
Rakshan Bandhan Scraps


More Greeting Cards
Rakshan Bandhan Scraps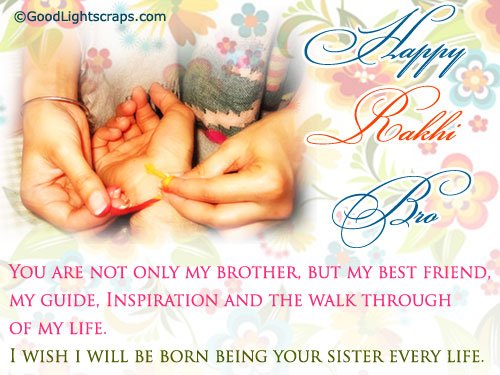 More Greeting Cards
Feliz Raksha Bandhan, Amigo, Este é um festival observado principalmente na Índia, que celebra a relação entre irmãos e irmãs, A cerimônia central envolve a subordinação de um rakhi (cordão sagrado) por uma irmã no pulso de seu irmão. Isto simboliza o amor da irmã e orações para seu irmão bem-estar, ao longo da vida e promessa do irmão para protegê-la. O festival cai na lua cheia
Happy Raksha Bandhan, Friend, This is a festival primarily observed in India, which celebrates the relationship between brothers and sisters, The central ceremony involves the tying of a rakhi (sacred thread) by a sister on her brother's wrist. This symbolizes the sister's love and prayers for her brother's well-being, and the brother's lifelong vow to protect her. The festival falls on the full moon
More
Raksha Bandhan
|
Forward this Graphic
Happy Raksha Bandhan
|
Forward this Picture
Rakshan Bandhan Scraps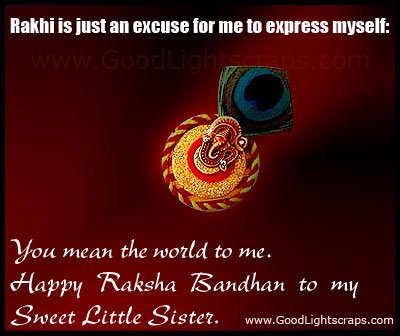 More Greeting Cards
Rakshan Bandhan Scraps


More Greeting Cards
Rakshan Bandhan Scraps


More Greeting Cards
Rakshan Bandhan Scraps


More Greeting Cards
Rakshan Bandhan Scraps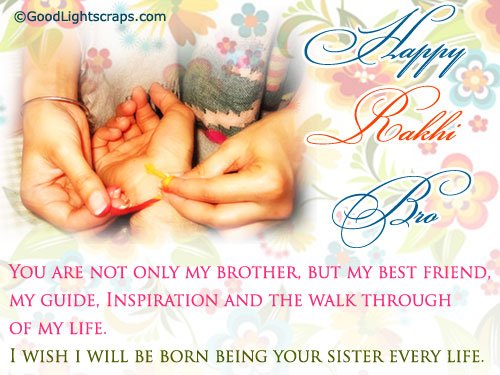 More Greeting Cards
Rakshan Bandhan Scraps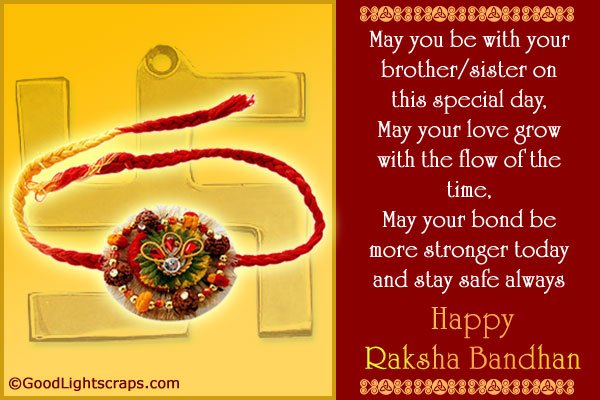 More Greeting Cards
Rakshan Bandhan Scraps


More Greeting Cards
Rakshan Bandhan Greetings


More Greeting Cards
Rakhi Greetings


More Greeting Cards
Rakshan Bandhan Scraps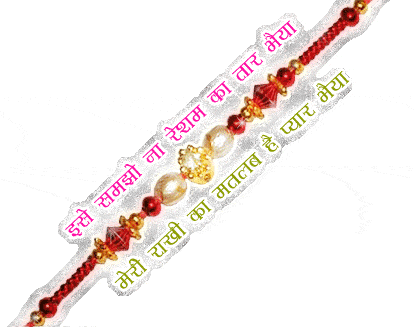 More Greeting Cards
Happy Raksha Bandhan, Friend, This is a festival primarily observed in India, which celebrates the relationship between brothers and sisters, The central ceremony involves the tying of a rakhi (sacred thread) by a sister on her brother's wrist. This symbolizes the sister's love and prayers for her brother's well-being, and the brother's lifelong vow to protect her. The festival falls on the full moon
O MEU GRANDE AMIGO ESTE DA FOTO Rajesh Ranjan Singh ME FORNECEU INFOMAÇÕES SOBRE Happy Raksha Bandhan.
VALE A PENA CONHECER A RESPEITO DESTA CULTURA MARAVILHOSA .CRIEI ESTA PÁGINA E DEDICO A ELE ,TODA SUA FAMÍLIA E AMIGOS
MY GREAT FRIEND THIS PHOTO Rajesh Ranjan Singh INFOMAÇÕES PROVIDED ON ME Happy Raksha Bandhan
WORTH KNOWING ABOUT THIS WONDERFUL CULTURE. Created this page is dedicated to HIM, ALL HIS FAMILY AND FRIENDS
Raksha Bandhan
Around mid-August, Hindus all over celebrate Raksha Bandhan. "Raksha" means protection, "bandhan" means bound or binding.
In North India, the occasion is popularly called Raksha Bandhan or Rakhi, the tying of an amulet.
In ancient times a woman tied a 'raksha' on her husband's wrist to protect him from evil. Gradually this changed; she tied a 'raksha' on her brother's right wrist, to protect him from evil influence and those factors which may taint his character, and to strengthen the bond of sibling love between them. She visits her home and performs his 'pujan' by applying kumkum and rice grains on his forehead. In return the brother gives her a gift and vows to protect her too. The 'rakhadi' itself ranges from a coloured cotton string to exquisitely decorated balls of various sizes and materials such as fluffy cotton, 'zari' paper, tinsel, beads and so on.
A second sentiment relates to 'Baleva' and our devotion to the Lord. Just as Bali Raja offered devotion to Lord Narayan by sacrificing his kingdom and himself, devotees should endeavor to emulate him. That is the true spirit of Baleva.
On Raksha Bandhan day, priests also tie rakhis on their patrons and in return receive offerings from them. In some parts of the country it is customary to draw figures on the walls of their home and worship them with offerings of vermilion and kheer. The imprints of palms are also put on either side of the entrance and rakhis are stuck on them. Some parts of India also reserve this day for the sacred thread changing ceremony when the young boys discard the old one and don a new one ritualistically. However it is the symbolic everlasting bond between brothers and sisters that reinforces ties between them even across continents, which has the most significance on this auspicious day.
TRADUÇAO:
Feliz Raksha Bandhan, Amigo, Este é um festival observado principalmente na Índia, que celebra a relação entre irmãos e irmãs, A cerimônia central envolve a subordinação de um rakhi (cordão sagrado) por uma irmã no pulso de seu irmão. Isto simboliza o amor da irmã e orações para seu irmão bem-estar, ao longo da vida e promessa do irmão para protegê-la. O festival cai na lua cheia
Raksha Bandhan
Em meados de agosto, os hindus em todo comemorar Raksha Bandhan. "Raksha" significa proteção ", Bandhan" significa vinculados ou de ligação.
No norte da Índia, a ocasião é popularmente chamado de Raksha Bandhan ou Rakhi, a subordinação de um amuleto.
Nos tempos antigos, uma mulher ligada a 'raksha' no pulso de seu marido para protegê-lo do mal. Gradualmente isso mudou, ela amarrou uma 'raksha' no pulso direito de seu irmão, para protegê-lo da influência do mal e os fatores que podem manchar seu caráter, e para fortalecer o vínculo de amor entre irmãos entre eles. Ela visita sua casa e realiza o seu "pujan" através da aplicação de grãos kumkum e arroz em sua testa. Em troca, o irmão lhe dá um presente e promete protegê-la também. O 'rakhadi' em si varia de um fio de algodão colorido para bolas requintadamente decorados de vários tamanhos e materiais como o algodão macio, papel "zari", enfeites, miçangas e assim por diante.
A segunda se refere ao sentimento "Baleva e nossa devoção ao Senhor. Assim como Bali Raja oferecidos devoção ao Senhor Narayan, sacrificando o seu reino ea si mesmo, os devotos devem se esforçar para imitá-lo. Esse é o verdadeiro espírito de Baleva.
No dia Raksha Bandhan, os sacerdotes também tie Rakhis em seus clientes e em troca recebem ofertas a partir deles. Em algumas partes do país, é costume desenhar figuras nas paredes de sua casa e adorá-los com ofertas de vermelhão e kheer. As impressões das palmas das mãos também são colocados em cada lado da entrada e Rakhis estão presos a eles. Algumas partes da Índia também reservam este dia para a cerimônia do cordão sagrado mudar quando os meninos descartar o velho e don um novo ritual. No entanto, é o vínculo simbólico eterna entre irmãos e irmãs que reforça os laços entre eles, mesmo em todos os continentes, que tem o maior significado neste dia auspicioso.
BIOGRAFY
Raksha Bandhan
From Wikipedia, the free encyclopedia
Raksha Bandhan
A simple rakhi, tied on a wrist.
Official name Raksha Bandhan
Also called Rakhi
Observed by Hindus, Sikhs, Muslims
Date Purnima (full moon) of Shraavana
2011 date 13 August
Related to Sibling
Friendship
An article related to
Hinduism
Auṃ • Brahman • Ishvara
Hindu • History of Hinduism
Deities[show]
Philosophy[show]
Scriptures[show]
Practices[show]
Philosophers[show]
Other Topics[show]
Hinduism Portal
Hindu Mythology Portal
v · d · e
Raksha Bandhan (Hindi: रक्षाबंधन, Punjabi: ਰਕਸ਼ਾਬੰਧਨ, Urdu: رکشا بندھن the bond of protection), or Rakhi (Hindi: राखी, Bengali রাখী, Punjabi: ਰਾਖੀ, Urdu: راکھی), is a festival primarily observed in India, which celebrates the relationship between brothers and sisters. It is also called Rakhi Purnima in certain parts of India, like the south.[1][2] The festival is observed by Hindus, Muslims and Sikhs.[3][4][5] The central ceremony involves the tying of a rakhi (sacred thread) by a sister on her brother's wrist. This symbolizes the sister's love and prayers for her brother's well-being, and the brother's lifelong vow to protect her.[6][7] The festival falls on the full moon day (Shravan Poornima) of the Shravan month of the Hindu lunisolar calendar.[6][8][9][10] It grew in popularity after Rani Karnavati, the widowed queen of Chittor, sent a rakhi to the Mughal emperor Humayun when she required his help.[5]
Contents [hide]
1 Observance
2 Historical occurrences and mentions
2.1 Santoshi Ma
2.2 Krishna and Draupadi
2.3 King Bali and Goddess Laxmi
2.4 Yama and the Yamuna
2.5 Alexander the Great and King Puru
2.6 Rani Karnavati and Emperor Humayun
3 Other festivals on this day
3.1 Balarama Jayanti
3.2 Raksha Bandhan celebrations in India and Nepal
3.3 Rakhi Purnima
3.4 Gamha Purnima
3.5 Narali Purnima
3.6 Jandhyam Poornima
3.7 Kajari Purnima
3.8 Pavitropana
3.9 Jhulan Purnima, Poonal/Jandhya Poornima/ Janyu
4 References
5 External links
Observance
The festival is marked by the tying of a rakhi, or holy thread, by the sister on the wrist of her brother. The brother in return offers a gift to his sister and vows to look after her as she presents sweets to him. The brother and sister traditionally feed one another sweets. Since north Indian kinship practices give cousins a status similar to siblings, girls and women often tie the rakhi to their male cousins as well (referred to as "cousin-brothers" in regional parlance) in several communities.[11][12] Unrelated boys and men who are considered to be brothers (munh-bola bhai or adopted brothers) can be tied rakhis, provided they commit to a lifelong obligation to provide protection to the woman or girl.[13]
Historical occurrences and mentions
Santoshi Ma
The tale of the deity Santoshi Mata and the narrative of her creation on Raksha Bandhan day, was popularized in the 1975 Bollywood blockbuster Jai Santoshi Maa. Ganesh had two sons, Shubh and Labh. On Raksha Bandhan, Ganesh's sister visited and tied a rakhi on Ganesh's wrist. Feeling and his two wives, Riddhi and Siddhi, for a sister. Finally, Ganesh conceded the demand, and Santoshi Ma (literally the Mother Goddess of Satisfaction) was created by divine flames that emerged from Riddhi and Siddhi.[14]
Krishna and Draupadi
Another incident from the epic Mahabharat concerns Krishna and Draupadi, the wife of the Pandavas. She had once torn a strip of silk off her sari and tied it around Krishna's wrist to staunch the bleeding from a battlefield wound. Krishna was touched by her action and declared her to be his sister, even though they were unrelated. He promised to repay the debt and then spent the next 25 years doing just that. Draupadi, in spite of being married to five great warriors and being a daughter of a powerful monarch, trusted and depended wholly on Krishna. Krishna repaid the debt of love during the "Cheer-Haran" (literally "clothing-robbing") of Draupadi, which occurred in the assembly of King Dhritarashtra when Yudhisthira lost her to the Kauravas in gambling. At that time, Krishna indefinitely extended her saree through divine intervention, so it could not be removed, to save her honor. This is how he honored his rakhi vow toward Draupadi.[15]
King Bali and Goddess Laxmi
According to a legend the Demon King Bali was a great devotee of Lord Vishnu. Lord Vishnu had taken up the task to guard his kingdom leaving his own abode in Vaikunth. Goddess Lakshmi wished to be with her lord back in her abode. She went to Bali disguised as a woman to seek refuge till her husband came back.
During the Shravan Purnima celebrations, Lakshmi tied the sacred thread to the King. Upon being asked, she revealed who she was and why she was there. The king was touched by her goodwill for his family and her purpose and requested the Lord to accompany her. He sacrificed all he had for the Lord and his devoted wife.
Thusdevotion to the Lord. It is said that since then it has been a tradition to invite sisters in Shravan Purnima for the thread tying ceremony or the Raksha Bandhan.[16]
Yama and the Yamuna
According to another legend, Raksha Bandhan was a ritual followed by Lord Yama (the Lord of Death) and his sister Yamuna, (the river in northern India). Yamuna tied rakhi to Yama and bestowed immortality. Yama was so moved by the serenity of the occasion that he declared that whoever gets a rakhi tied from his sister and promised her protection, will become immortal.
Alexander the Great and King Puru
According to one legendary narrative, when Alexander the Great invaded India in 326 BC, Roxana (or Roshanak, his wife) sent a sacred thread to Porus, asking him not to harm her husband in battle. In accordance with tradition, Porus, a Katoch king, gave full respect to the rakhi. On the battlefield, when Porus was about to deliver a final blow to Alexander, he saw the rakhi on his own wrist and restrained himself from attacking Alexander personally.[17]
Rani Karnavati and Emperor Humayun
A popular narrative that is centered around Rakhi is that of Rani Karnavati of Chittor and Mughal Emperor Humayun, which dates to 1535 CE. When Rani Karnavati, the widowed queen of the king of Chittor, realised that she could not defend against the invasion by the Sultan of Gujarat, Bahadur Shah, she sent a Rakhi to Emperor Humayun. Touched, the Emperor immediately set off with his troops to defend Chittor.[18] Humayun arrived too late, and Bahadur Shah managed to sack the Rani's fortress. Karnavati, along with a reported 13,000 other women in the fortress, carried out Jauhar on March 8, 1535, killing themselves to avoid dishonor while the men threw the gates open and rode out on a suicidal charge against Bahadur Shah's troops.[19][20] When he reached Chittor, Humayun evicted Bahadur Shah from fort and restored the kingdom to Karnavati's son, Vikramjit Singh.[19] Although contemporary commentators and memoirs do not mention the Rakhi episode and some historians have expressed skepticism about it, it is mentioned in one mid-seventeenth century Rajasthani account.[21]
Other festivals on this day
In southern & Central parts of India including Kerala, Andhra Pradesh, Tamil Nadu, Karnataka, Maharashtra and Orissa, this day (i.e. Shravan Poornima day), is when the Brahmin community performs the rituals of Avani Avittam or Upakarma.
Balarama Jayanti
This is also celebrated as Shri Baladeva birth Ceremony. Lord Krishna's elder Brother Prabhu Balarama was born on this Poornima.[22][23]
Raksha Bandhan celebrations in India and Nepal
While Raksha Bandhan is celebrated all over the country, different parts of the country mark the day in different ways.
In Nepal, Raksha Bandhan is celebrated on shravan purnima. It is also called Janai Purnima (Janai is sacred thread and purnima means full moon). Janai is changed in this day, in Brahmins and kshetry's family. A sacred thread is tied on hand by senior family members and relatives. Nepalese people enjoy this festival eating its special food "Kwati", a soup of sprout of seven different grains.[24][25][26]
Rakhi Purnima
Rakhi is celebrated as Rakhi Purnima in North India. The word "Purnima" means a full moon night.[27][28]
Gamha Purnima
Rakhi is also celebrated as Gamha Purnima in Orissa. On this date, all the domesticated Cows and Bullocks are decorated and worshipped. Various kinds of country-made cakes called Pitha and sweets mitha are made and distributed within families, relatives and friends. In Orissan Jagannath culture, the lord Krishna & Radha enjoy the beautiful rainy season of Shravana starting from Shukla Pakhya Ekadashi (usually 4 days before Purnima) and ending on Rakhi Purnima with a festival called Jhulan Yatra. Idols of Radha-Krishna are beautifully decorated on a swing called Jhulan, hence the name Jhulan Yatra.[29][30]
Narali Purnima
In western India and parts of Maharashtra, Gujarat, and Goa this day is celebrated as Narali Purnima. On this day, an offering of a coconut (naral in Marathi) is made to the sea, as a mark of respect to Lord Varuna, the God of the Sea. Narali Purnima marks the beginning of the fishing season and the fishermen, who depend on the sea for a living, make an offering to Lord Varuna so that they can reap bountiful fish from the sea.[31]
Jandhyam Poornima
Jandhyam is Sanskrit for sacred thread, and Poornima denotes the full moon in Sanskrit.[32][33][34]
The people of the Kumaon region of Uttarakhand, celebrate Raksha Bandhan and Janopunyu(जन्यो पुन्यु) on the Shravani Purnima, it is a day on which people change their janeu जनेयु or जन्यो (sacred thread). On this day, the famous Bagwal fair is held at Devidhura in district Champawat. Punyu in Kumauni means Purnima or full moon it is the purnima in which the sacred thread Janeu or Janyo is ceremonially changed. The Raksha Bandhan celebrations are similar all across North India. The thread changing ceremony is done all over India.[35][36][37]
Kajari Purnima
In central parts of India such as Madhya Pradesh, Chattisgarh, Jharkand and Bihar this day is celebrated as Kajari Purnima. It is an important day for the farmers and women blessed with a son. On the ninth day after Shravana Amavasya, the preparations of the Kajari festival start. This ninth day is called Kajari Navami and varied rituals are performed by women who have sons until Kajri Purnima or the full moon day.[38][39][40]
Pavitropana
In parts of Gujarat, this day is celebrated as Pavitropana. On this day, people perform the grand pooja or the worship of Lord Shiva. It is the culmination of the prayers done throughout the year.[41][42][43][44][45]
Jhulan Purnima, Poonal/Jandhya Poornima/ Janyu
According to Bengali Culture & Celebration, in the state of West Bengal (India), this day is also called Jhulan Purnima there pray & puja of Lord Krishna & Radha. Sister tied rakhi to Brother and bestowed immortality. Political Parties, Offices, Friends, Schools to colleges, Street to Palace celebrate today with a new hope for a good relationship. Brahmins in Tamil Nadu, Andhra Pradesh, Karnataka, Konkan, and Orissa change their sacred threads on the same day (Janayu, called as Poonal in Tamil, Jandhyam in Sanskrit).[46][47][48]
FRIENDS !PARTICIPARTE OF MY SITES IN GOOGLE.
USE THIS NAMES IN GOOGLE OK?
VAI COLOCANDO ESSES NOMES QUE ESTÃO AÍ EMBAIXO E PESQUISANDO NO GOOGLE OK?:
LUIZA GOIANAPOLIS MY BLOG,
LUIZA GOIANAPOLIS JANGO,
GOIANÁPOLIS LUIZA CABELEIREIRA ,
luizacabeleireira2009@hotmail.com,
LUIZA BOLLYWOOD,
LUIZA GOIANAPOLIS ENRIQUE IGLESIAS,
LUIZA GOIANAPOLIS ENRIQUE IGLESIAS MY BLOG,
LUIZA SANTOS GOIANAPOLIS,
luizacabeleireira@yahoo.com ,
BOLLYWOOD LUIZA,
LUIZA BRAZILIAN INDIAN
MSN LUIZA GOIANAPOLIS
LUIZA GOIANAPOLIS ,
LUIZA GOIANAPOLIS Manpreet Sandhu ,
BOLLYWOOD GOIANAPOLIS,
LUIZA INDIA GOIANAPOLIS,
BOLLYWOOD GOIANAPOLIS ALEX BAND,
GOIANAPOLIS LUIZA ,
LUIZA INDIA GOIANAPOLIS,
GOIANAPOLIS BOLLYWOOD,
LUIZA GOIANAPOLIS INDIA,
LUIZA GOIANAPOLIS Imran Khan,
LUIZA GOIANAPOLIS SCRAPS,
LUIZA GOIANAPOLIS ATIF ASLAM ,
LUIZA GOIANAPOLIS KATRINA KAIF,
LUIZA GOIANAPOLIS SALMAN KHAN,
LUIZA GOIANAPOLIS Ranbir Kapoor,
LUIZA GOIANAPOLIS Shahrukh Khan,
LUIZA GOIANAPOLIS PRIYANKA CHOPRA,
LUIZA GOIANAPOLIS Aishwarya Rai,
LUIZA GOIANAPOLIS KAREENA KAPOOR,
LUIZA GOIANAPOLIS ABHISHEK BACHCHAN,
LUIZA GOIANAPOLIS AJAY DEVGAN,
LUIZA GOIANAPOLIS AAMIR KHAN,
LUIZAGOIANAPOLIS Hrithik Roshan ,
GOIANAPOLIS BOLLYWOOD AMAZON,
LUIZA GOIANAPOLIS Imran Khan,
LUIZA GOIANAPOLIS Himesh Reshammiya,